PCB Electronic Component Supplier
While providing PCB manufacturing and assembly, GLOBAL WELL TECH also provides component procurement services, saving customers time and effort
services : one-stop pcba services
Certificate : RoHS,ISO9001,IATF16949,ISO13485
Board Size : Square,circle,irregular(with jigs)
Lead Free Technology : Yes
Place of Origin : Guangdong, China
Contact us
Product Details
Provide various types of component objects
While providing PCB manufacturing and assembly, GLOBAL WELL TECH also provides component procurement services, saving customers time and effort, helping small and medium-sized manufacturing enterprises to improve production plans, improve efficiency, save labor, time and material costs.
Cooperation: As of 2018, cooperate with well-known original factories and first-level agents of component manufacturers, and the accumulated spot inventory exceeds 5 billion;
BOM housekeeper: Drag and drop the BOM tool developed by yourself into the BOM form, and display the project cost, risk materials, replacement materials, etc. in seconds.
Minimum package | MOQ:
According to the usage of the order
Common components and materials: Minimum package: 10000, MOQ: 100, incremental quantity: 100
Important components: minimum package: 1000, MOQ: according to order usage, incremental amount: according to order usage
Packing: Bulk
Life Cycle: In Life
Mainland delivery (including tax): 11-13 days
1. How do you ensure that it is the original factory or agent?
A: We have a special business cooperation department that strictly checks and certifies the qualifications of the original factory and the agent. The supplier must pass the qualification review before putting the materials on the shelf; we pay more attention to the channel and quality of the product than any customer. The audit of the merchant is very strict, you can rest assured to choose!
2. How do I place an order?
Answer: Please leave a message about the name, model, quantity, and shipping destination of the electronic components you need. We will confirm the order with you.
Leading PCB manufacturing and assembly
GLOBAL WELL TECH LIMITED (GWT) was established in 2014, located in Shenzhen China, We are an expert at PCB and PCB assembly.We have about 5,000 square meters area & 180 employees. We have got the ISO9001:2015,ISO13485,IATF16949 Certifications. We can provide a variety of services, including
PCB manufacturing
and
PCB assembly
, sample orders and batch orders. PCB assembly, We have Samsung 7 high-speed SMT lines,2 dip lines, 2 testing lines to meet your needs! OEM/ODM/EMS Services for PCBA: •PCBA, PCB Board assembly: SMT & PTH & BGA •PCBA and enclosure design •Components sourcing and purchasing •Quick prototyping •Plastic injection molding •Metal sheet stamping •Final assembly •Test: AOI, In-Circuit Test (ICT), Functional Test (FCT) •Custom clearance for material importing and product exporting Components Sourcing We can make purchase in full accordance with the customer's designated supplier. Can also help customers reviwe and improve the supply chain, identify the specifications of electronic components, lower the cost and avoid the introduction of any defective products.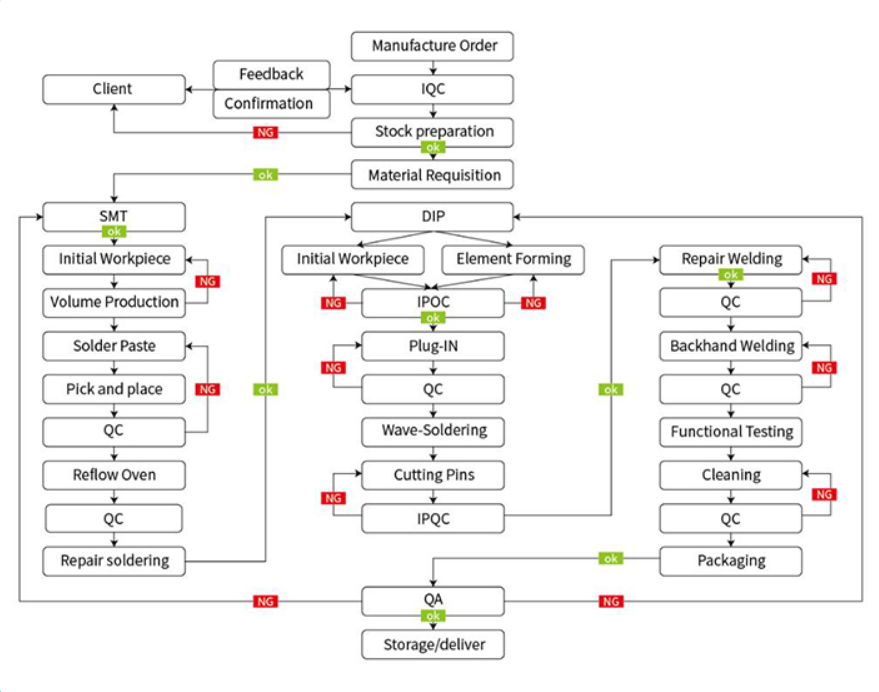 To ensure an accurate quote, be sure to include the following information for your project: •Complete GERBER files including the BOM list •Other file types (Altium,Protel,OrCAD) •"Read Me" notes for additional fabrication information •Quantities •Turn time •Panelization Requirements •Materials Requirements •Finish requirements Your custom quote will be delivered in just 2-24 hours, depending on the design complexity.